Hello and welcome to my userpage.
Feel free to make yourself confortable and please take a seat.
I might introduce myself as Goki, but my close friends call me Akira after my human self. If one intends to adress me respectfully, feel free to refer to me as Gokimaru.
You might know me as one of the main characters of the Kishin Douji Zenki series, though in this case, this is neither a game nor fiction nor anything of the like.

I am the real Goki.
(so please don't get me mixed up with my fictional counterpart)

If you want to talk to me, feel free to visit my message wall and leave a comment.
I visit the wiki every once in awhile and might answer sooner or later.
In case you immediately need help, please contact a fellow admin.
Kishin Douji Zenki Wikia Interview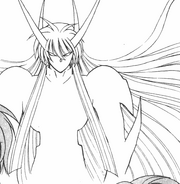 Most fascinatingly, we not only managed to meet the real Akira Gotou (aka Goki) in person, but also this wiki and the series related to the adventures of his friends and himself caught his attention, so we got really lucky.
His closest friends call him Akira, but everyone else should refer to him as Goki, though adressing him as Akira-kun, Goki-kun or Goki-sama is fine as well.

Initially, Goki joined our wiki, due to his old comrade Zenki being treated rather unfairly by various fans. Shortly after Zenki, Goki joined us as our second Kishin Douji Zenki Wikia mascot.
Being a calm and collected character, Goki will usually take a neutral role in discussions. Whenever something goes haywire, he will be the one taking over in an attempt to defuse the situation, though Semerone is known to defuse troublesome situations as well.
Differences to his fictional counterpart
The real Goki has...

...regained his fourth element (Fire) and thus reached his fourth form.

It was passed to him by an elderly, female descendant of his, who unfortunately passed away.

...admitted his afectionate feelings towards Chiaki and is currently her boyfriend.
...regained his fifth element (Wind) and thus reached his FINAL form.

It was passed to him by Semerone, who turned out to be a distant relative of his.
How I got to know about Kishin Douji Zenki Wikia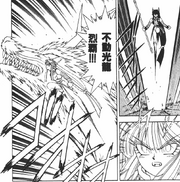 Hello. I am Goki the second Kishin Douji Zenki Wikia mascot.
A good friend of mine, named Semerone (who also happens to be the founder of this wiki) invited me to join this wiki.
While I have never worked on a wiki before, I got very excited and decided to aid her, by helping her resolving some conflicts. After what she told me, they had been going on quite for awhile.
Anyways, this is my first userpage, so it's rather sparse, but this might change sooner or later.
Thank you for reading this.
My Mascot Page
As one might or might not have seen. From 20:44, December 26, 2016 onwards, I joined Kishin Douji Zenki Wikia as its second mascot and thus got a my own mascot page, which is has recently been upgraded into the "Real Life"-section of my userpage.
Semerone, Zenki and I will occasionally post some updates on The alternate Forum,
so feel free to visit it once in awhile.
My Poetry Blog
If one is interested on reading and commenting on poems about our series and characters,
feel free to visit my poetry blog.
While my poetry blog currently only features one expression of my feelings, more might follow.
Administrator
As of 2017-01-01, our master Semerone, the founder of this wiki, elevated me to the rank of a full fledged admin. She also announced me to be her representant and thus in charge of this wiki as long as she is away.
I want to thank her for her deep trust in Zenki's and my abilities, (she promoted him as well) and promise that we will take good care of this wiki.
I am an admin at the following wikis
I am also a moderator at these wikis